Mother Nature attacks through Hurricane Hilary and an Earthquake

Brooklyn Projects, a distinguished skate shop located in Los Angeles, found itself among the casualties of the recent Hurricane Hilary, which struck the West Coast with its terrifying force over the weekend. Adding to the unfolding natural disaster, a mere 24 hours following the hurricane's arrival, Southern California was jolted by a 5.1 magnitude earthquake that shook through various parts of the region. Though the earthquake's impact was not widely felt, the sequence of two catastrophic events unfolding in quick succession left many in awe.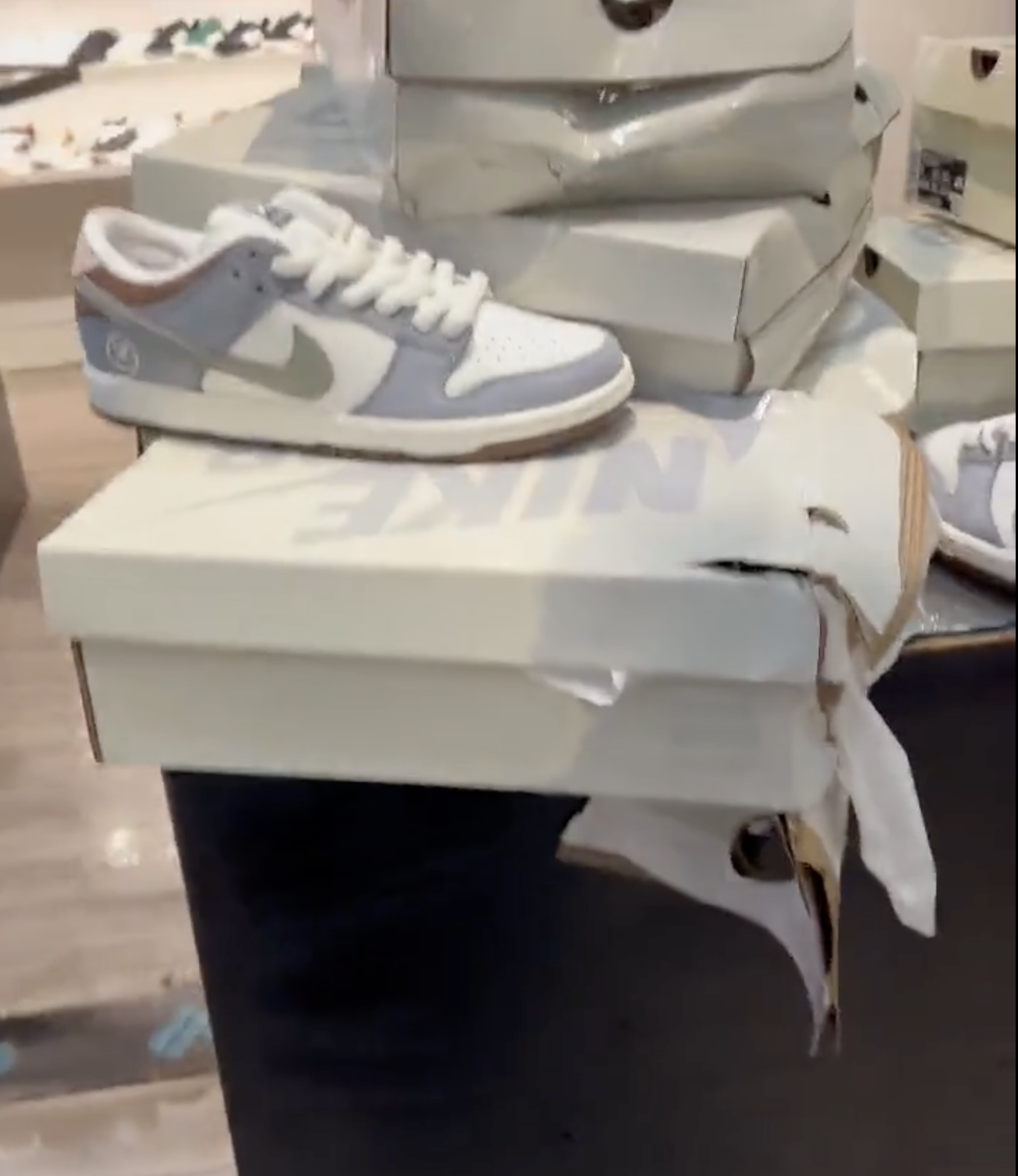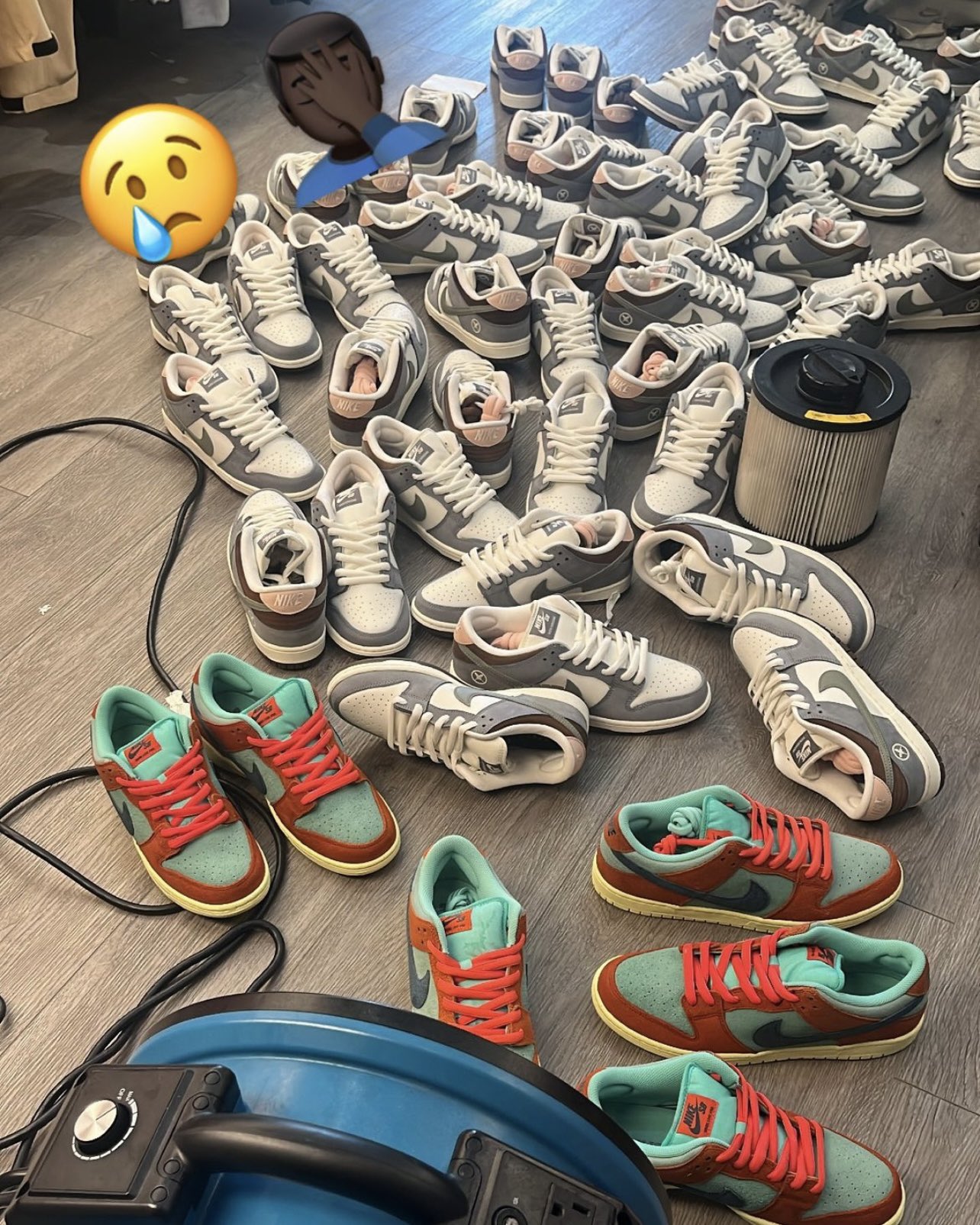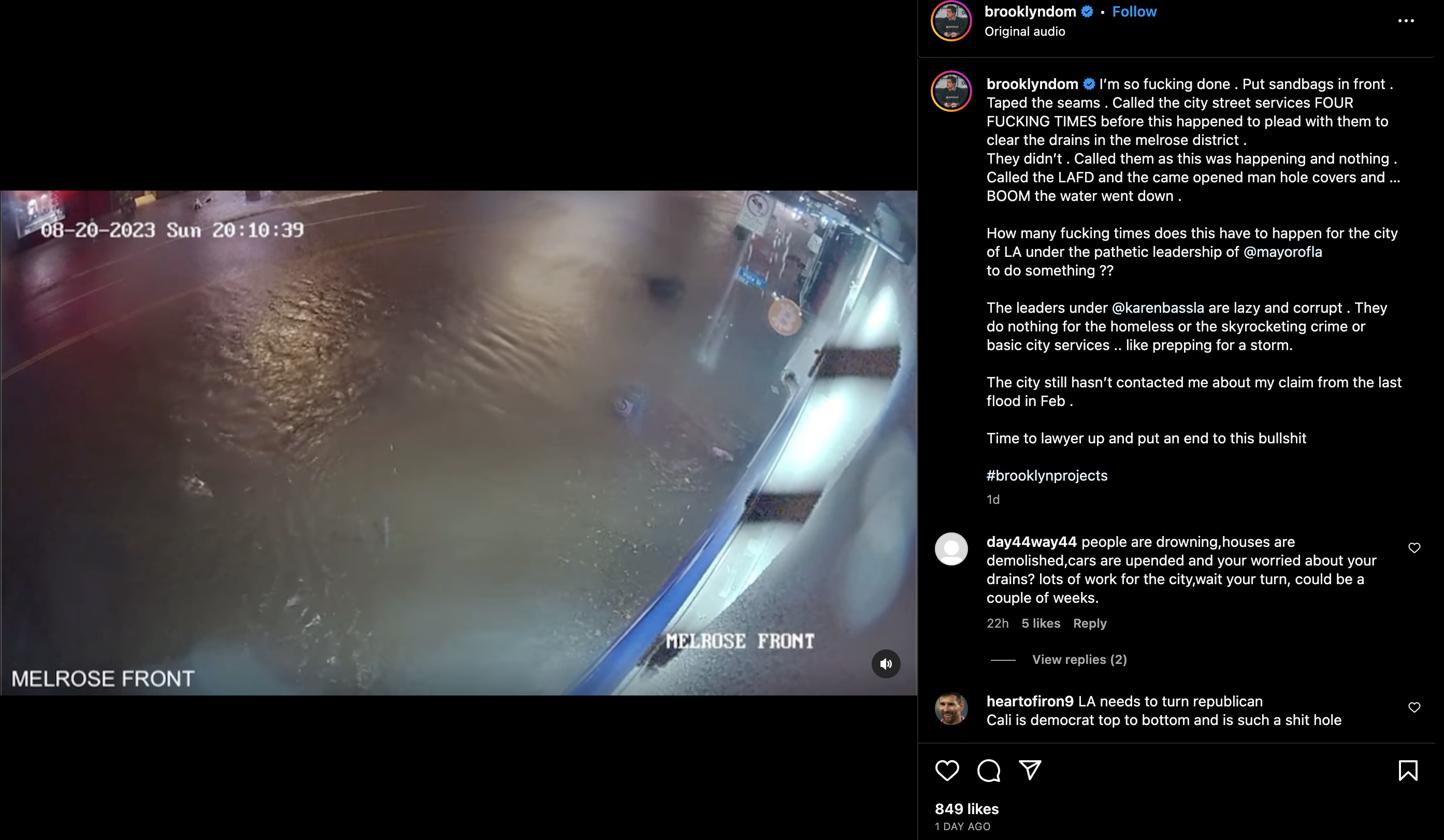 All Yuto Horigome Nike SB's get water damaged

Amid the damage brought forth by the hurricane, Brooklyn Projects faced challenges in safeguarding its collection of sneakers. Notably, a set of upcoming Yuto Horigome Nike SB Dunk Low sneakers fell victim to water damage due to the flooding. A video displayed the store's inventory of SB Dunk Low pairs, all drenched, including their boxes. Yet, the online community's response was far from subdued. Remarkably, resellers and Nike SB enthusiasts took to Brooklyn Projects' Instagram, expressing their interest in purchasing even the unboxed or water-damaged pairs.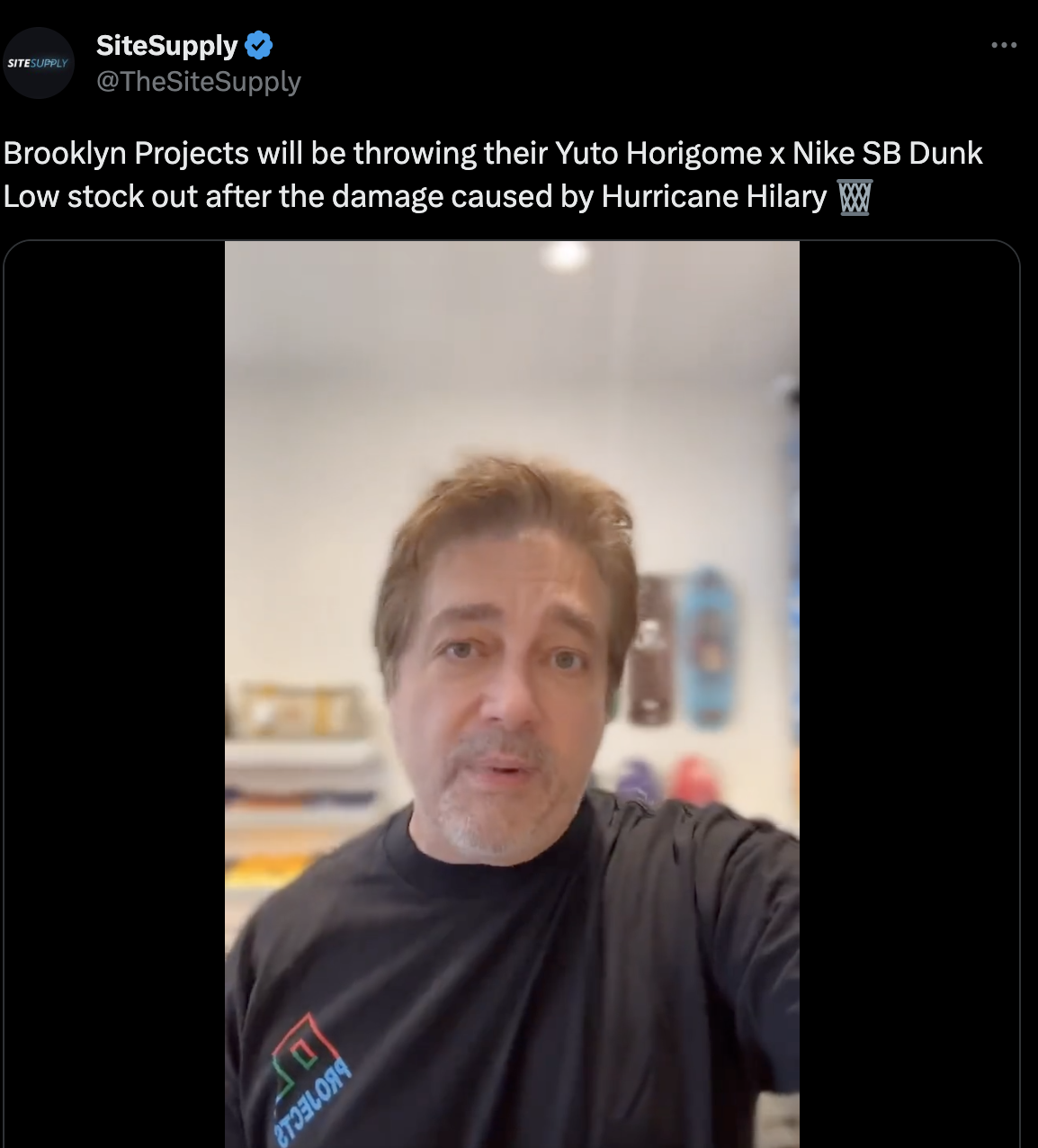 Brooklyn Projects owner Dom DeLuca responds

In a subsequent video response, Dom DeLuca, the owner of Brooklyn Projects, conveyed a mix of gratitude and frustration, expressing the emotions stirred by the situation. Allegedly, Dom had sought assistance from city street services on four separate occasions to address drainage issues in the Melrose District. Regrettably, none of these appeals were met with a response, leading to the store's third flooding incident as a result of the city's lack of action. The mounting frustration was so intense, magnified by the flood of comments from resellers to acquire the water-damaged Yuto Horigome Nike SB Dunk Lows. Consequently, Dom announced a decisive measure: the water-damaged pairs would no longer be offered for sale, opting instead to dispose of them. While this choice attracted further hostile commentary, it seemed to be the most sensible path forward for the store. Dom also emphasized that those wishing to support the store should consider purchasing its merchandise and items, rather than aiming for the desirable Yuto Horigome SBs.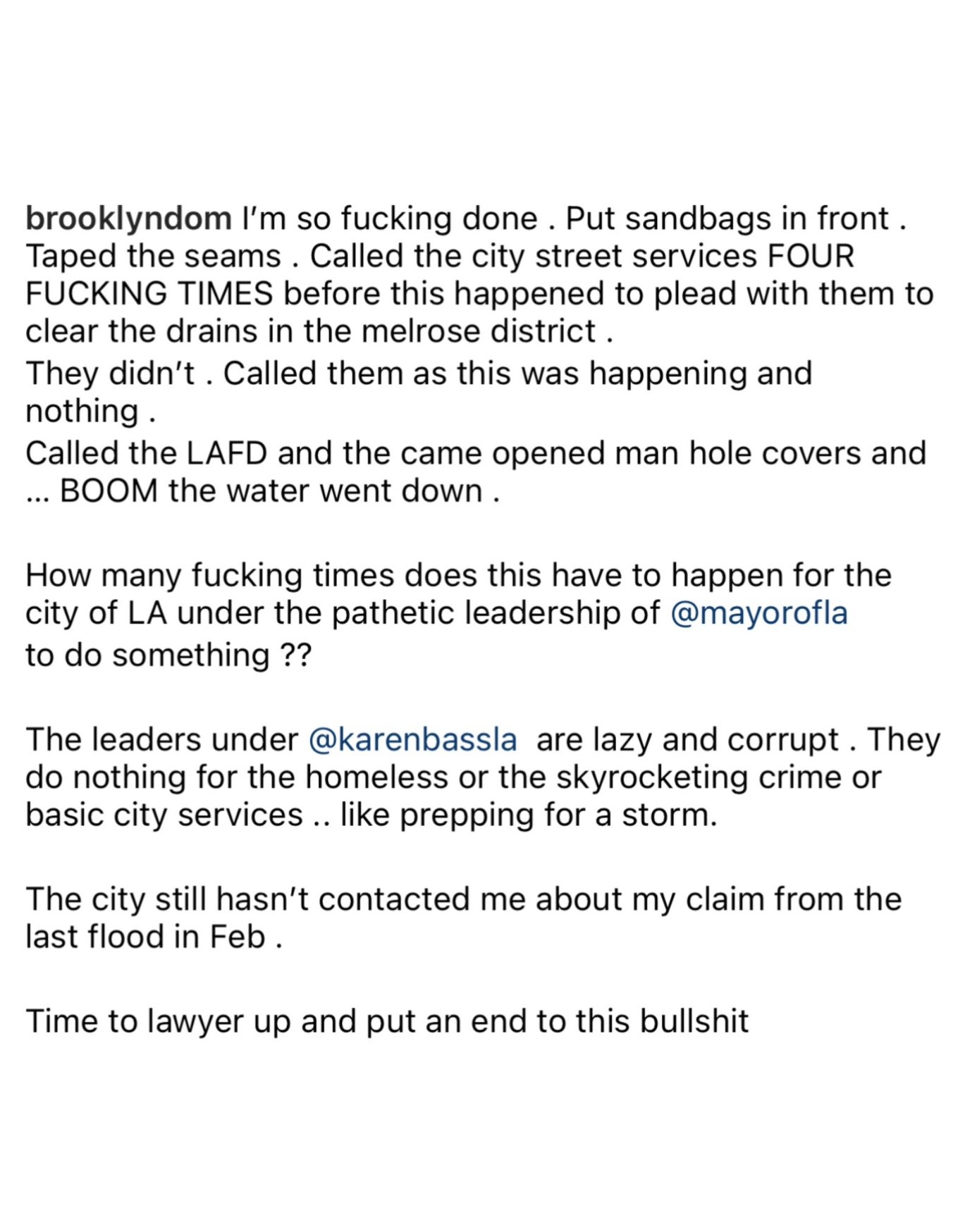 Yuto Horigome Nike SB Dunk Low release details and pricing

The Yuto Horigome Nike SB Dunk Low, a much-anticipated collaboration with the Japanese skateboarding Olympic gold medalist, is on the horizon. Scheduled for release on August 29th through the SNKRS app and select Nike SB flagship stores, these pairs will be priced at $130 and available exclusively in men's sizing. However, the unfortunate circumstances surrounding Hurricane Hilary have rendered one less store able to carry this release.